Humboldt Apothecary - 1:1 CBD:THC - Wintergreen CBD Stick - 1.05 Oz
THC: 80.090mg
CBD: 89.010mg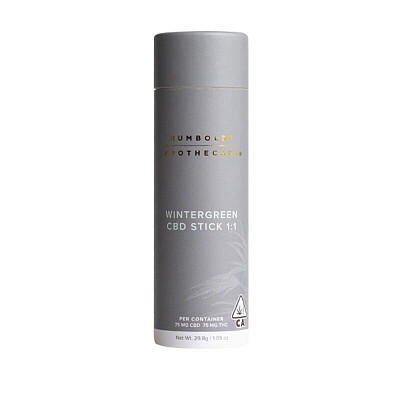 Hold your finger over the image
Humboldt Apothecary - 1:1 CBD:THC - Wintergreen CBD Stick - 1.05 Oz
THC: 80.090mg
CBD: 89.010mg
Made with premium whole flower cannabis extract in a 1:1 ratio with a cooling combination of menthol and pure essential oils with a distinct wintergreen scent. The wintergreen CBD stick is designed for easy application on the go without messy fingers!
INGREDIENTS Shea Butter, Coconut Oil, Candelilla Wax, Menthol, Cannabis Extract, Vitamin E, Essential Oils of Wintergreen, Camphor, Eucalyptus, Copaiba, and Clove. Contains Coconut and Non-GMO Soy.
Humboldt Apothecary is a women-owned and operated business that is committed to sustainable and environmentally friendly practices and quality ingredients.